Do these words Paragliding, Parasailing, and Paramotoring confuse you, or Are you in search of what these terms imply and how they are different from each other? Paragliding, Parasailing and Paramotoring all are renowned adventure sports and can give you an experience that you have never had in your life.
Although Paragliding, Parasailing, and Paramotoring all these terms may sound like the same as often they are used interchangeably but there is a difference between them. Here in this article, we will let you know not just about these sports but will also try to make you understand the distinction among these world-famous adventure rides. Let's take a look –
1) Paragliding
Paragliding is a recreational adventure sport and has gained massive popularity throughout the globe.  Paragliding fulfills one dream to fly in the air like a bird which is done through the help of paragliders. These paragliders are very light-weighted and are foot-launched having no structure as such. To experience Paragliding, a pilot is fastened to paraglider with the support of a harness and a fabric wing that assists in flying. This aircraft or paraglider can cover hundreds of km in a single flight and the best part is that anybody of any age or gender can learn to fly it with minimal training. Paragliding is mostly done at high altitudes at places that are surrounded by mountains or cliffs. There are many variants of paragliding like powered paragliding, speed paragliding, hand gliding, sky diving, and speed flying.
2) Parasailing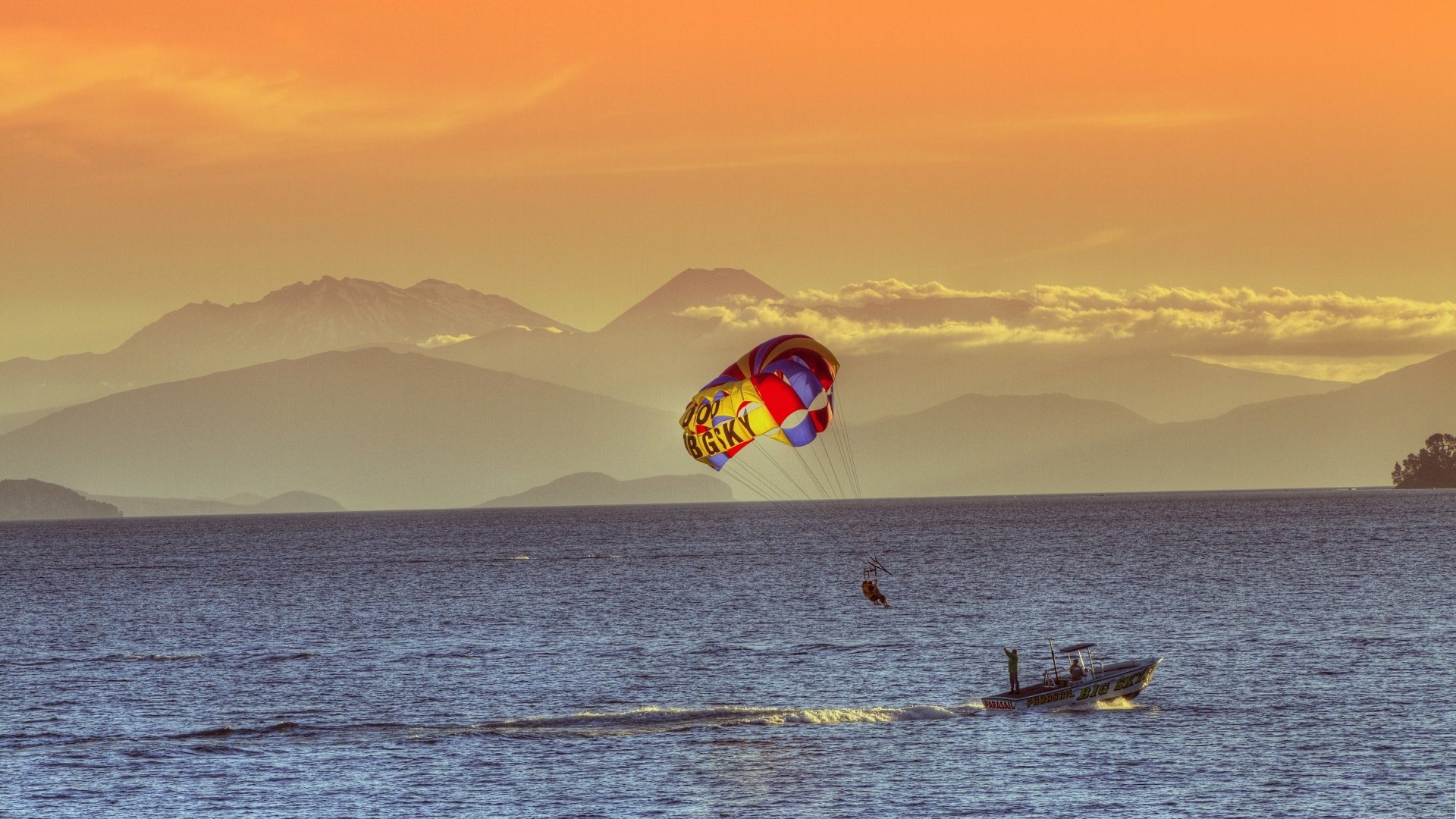 Parasailing popularly called parascending or parakiting developed in the early 1980s is a recreational kiting activity. Parasailing also quenches one's desire to soar high in the air and is performed using a boat but it can be done via a truck or a car along with it requires a canopy that looks like a parachute commonly known as parasail wing and a tow rope. In order to do Parasailing, a parasailor needs a harness which is attached by a parasail as well as a tow rope that connects it to a boat. Then, when the vehicle (boat) by which the parasailor is attached starts off, it lifts the parasailor into the air with the help of a parasail. It is advisable to have a long tow rope while parasailing, as longer the rope, the higher you will fly. Parasailing can be done by 2-3 persons at a time. 
3) Paramotoring
Paramotoring widely- known as powered paragliding is light aviation activity mostly used by people of the military. Paramotoring like parasailing and paragliding also executes a person's wish to glide in the sky. In Paramotoring a paramotor typically of a weight of 20 to 41 kg is attached to the pilots back which provides the force required to take off and afterward the paramotor is connected to a paraglider. As the paramotor starts, the person with the aid of a paraglider begins flying in the air. The person's weight also plays a key role in Paramotoring as according to it the size of the paramotor is decided. The biggest advantage of paramotoring is that it is very easy and can be launched by the pilot alone without any assistance. While Paramotoring a person can fly at a speed of 24 to 80 km/hr starting from the ground level and can reach up to a height of about 18000 ft in the still air. 
Difference between Paragliding,  Paramotoring, and Parasailing 
Despite the fact all of these (Paragliding, Paramotoring, and Parasailing) adventure sports are performed in the sky, have certain differences which are –
∙         The main difference between these 3 terms is that Paragliding as we said before can be done mostly on high altitudes in places with a stiff peak while Parasailing is usually done on a beach or a sea but can also be done on land.  On the other hand, Paramotoring is widely preferred to be done on the ground level. 
∙ In Paragliding, the pilot neither needs the aid of any kind of vehicle like boat, car, and truck nor of any kind of machine to assist it during flying. In Parasailing as we know, parasailor requires the support of a boat if performed in an aquatic region and a car or truck if performed on a terrestrial region to give enough thrust to make parasailor fly into the air. During Paramotoring also pilot requires the help of a machine called paramotor that aids it in gliding.
∙ If we talk about the differences among these sports from a safety point of view, we will recommend that you should not go for Paragliding if wind speed exceeds 40 km per hour and also at the time of rain, storm, or thunder. According to us, it is not safer to go for Parasailing if winds are blowing faster than 80 km per hour. Similarly, we would suggest that you should not do Paramotoring during high winds, thunder, and intense thermal activity.
∙ Both in Paragliding and Paramotoring when you are up in the air direction of wind matters a lot but contrary to both of them in Parasailing wind direction doesn't matter much which means you can go in any direction you want to fly.
∙         In the case of Paragliding, a pilot can climb to an altitude of several thousand meters depending on how skilled he or she is.  Talking about the case of Parasailing a person's ability to go up depends on the length of the rope to which the boat is attached. In the case of Paramotoring, a person can reach a height of about 18000 ft which depends upon his or her skill level as well as motor and wing combination used by him or her.
This brings us to the end of our article. Hope it helped you in gaining knowledge about all the three sports( Paragliding, Parasailing, and Paramotoring) and its distinctions. If asked to us which sport is better than the other? Our answer would be that all of them are equally exciting and thrilling. So our suggestion will be that whenever you get a chance to experience them do experience it as they will surely give you an adrenaline rush of your life.